ADVANTAGES OF GROWING GINGER IN A SACK
ADVANTAGES OF GROWING GINGER IN A SACK
Method of growing ginger in a sack is not new. However, some farmer in some areas not applied this method in planting, or even they know but applying this is otherwise. In this article, Tri Duc is going to analyze of ginger cultivation in a sack with the hope of bringing a realistic view about this method.
-

Planting ginger with how can take advantage of all surplus land.


Highlights of this method is able to utilize all areas even that area is used for cultivation of other crops. For example, ginger bag can be placed beside the fence, under trees, or along the path, or flat surface.
In addition to the advantage of such an area, many farmers also planted on arable land. Each square meter can be set from 10-12 ginger bags. To facilitate the care, farmers usually to 3 bags per line in order to create open space for the growth and development of ginger.
-

Planting ginger in a sack helps the better growth and faster development, higher yield:


Typically, each of ginger root generates 3-4 branches. But, with the planting in a sack, ginger not only growth, but also rapidly develops a lot of branches. Each is a ginger root weight, after 7 to 8 months, is from 1.5 to 2 kg / tubers – higher by compared with traditionally planting higher.
-

Planting ginger in a sack also help prevent the spreading disease in ginger.


The cultivation of ginger in bag can help to quickly detect signs of pest and sickness in ginger and put them out to prevent the spreading.
-

Planting ginger in bag to help farmer more active in combat flooding for ginger.
For those areas or frequently flooded or affected by the flood disaster. Growing ginger in bag can help people limit risks from natural disasters.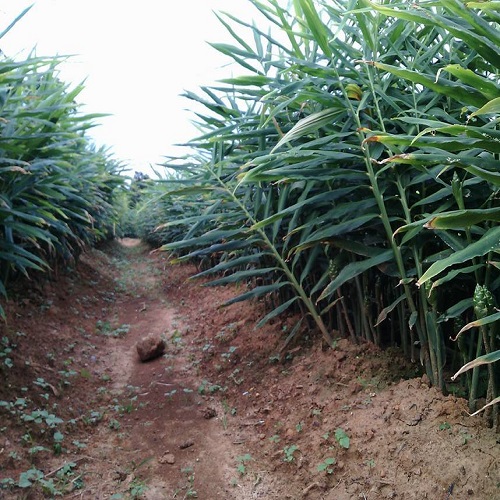 Growing ginger as tranditional method

Growing ginger in a sack for better yield